PolarisMail supports multiple webmail clients and you can test all of them before you choose your favorite. Supported webmails for Basic e-mail accounts are: AfterLogic, atMail, RoundCube and Horde. For Enhanced e-mail accounts you can use GroupOffice with extra features for collaboration or any of the Basic webmails.
Webmails don't need additional setup and you can access them from any computer or device, without installing other applications.
PolarisMail's Main Webmail Client
Our main webmail client for Basic E-mail services is Afterlogic, which has a powerful AJAX interface for faster access to your emails. Other features include:
Multiple IMAP accounts per user
Mobile ready interface, optimized for small screens and touch input
E-mail, contacts and calendar with single and recurring events, reminders
Multilingual support – Folders, emails, attachments
Branding with your own logo
Mail filters, auto-responder, auto-forward
Integrated with cloud storage and file sharing
Access to your PolarisMail personal drive directly, for saving attachments or sending documents
An online demo can be viewed at al.emailarray.com. Login using the following credentials:

Username: demo@polarismail.net
Password: demo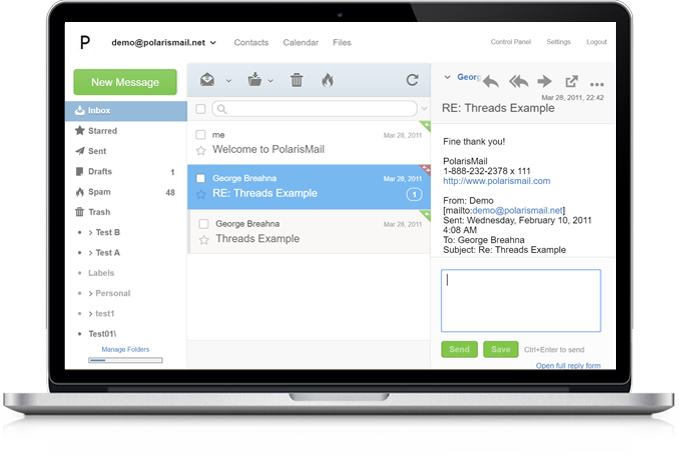 Alternative Webmail Clients
We make available several webmail clients for the end users and each administrator can decide which one they prefer. All the webmail clients are maintained & supported by PolarisMail. You can test all of them using the following credentials and choose your favorite webmail:
Username: demo@polarismail.net
Password: demo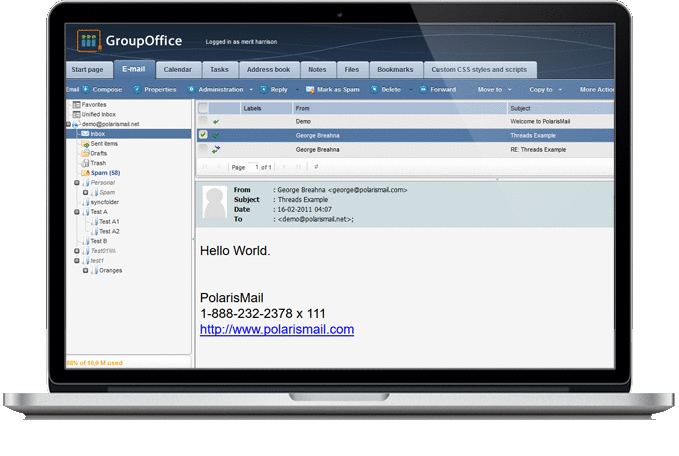 Webmail for Enhanced E-mail
Although you can use any webmail from above, GroupOffice Webmail is the only webmail compatible with our Enhanced E-mail services. It is fully featured with email, calendar, contacts, tasks, notes and collaboration tools like appointments, sharing calendars, files or folders.
You can try it out at office.polarismail.net with the following credentials:
User: demo
Password: demo
Which webmail is your favorite? Tell us with a tweet @polarisMail !